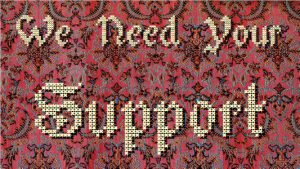 Titusville Love INC is Asking for Your Support
FAITHFUL 500
Our Faithful 500 is a group of consistent monthly donors who provide
a solid financial foundation for our day to day operation of
Love In the Name of Christ. Those who participate commit
to a specific amount of money they would like to pledge on a regular
(monthly is peferred) basis. Amounts range from $10 to $100 or more
if you choose. Donors are kept apprised of the activities of Love INC
through our newsletter, Love's Letter and are consulted as needed
in matters concerning the growth of the ministry. Donations, whether
Faithful 500 or otherwise may be sent to our mailing address at
Love INC, PO Box 132, Titusville, PA 16354.
CHURCHES
Love In the Name of Christ works with over 28 churches in our area
providing hope and healing to the lost and those sitting in our church
pews. If your church is not involved in Love INC and would like to
know more about community outreach and the real needs out there,
please contact us today. Our philosophy is to provide, as did the
Good Samaritan, a hand-up, not just a hand out. We are a ministry
built on relationships, crossing denominational lines to serve as the
Body of Christ for the furtherance of the Kingdom. We have a study
we like to provide for all churches and church groups, called
Redemptive Compassion. In this study we look at the different facets
of poverty and how to address those concerns in our community.
If you are interested in hosting this 6 week study, call us today at
(814) 827-4882 to learn more.
Thank you for your support. God bless you!