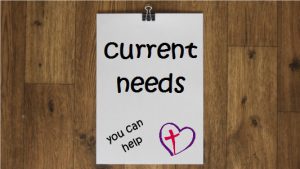 CURRENT NEEDS
Love INC relies on donations, both financial and product to meet
need in the community. Listed below are current needs for a number
of our ministries. Donations may be dropped off at our office during
normal operation hours, 10:00am to 2:00pm, Monday, Wednesday and Friday.
Furniture, particularly twin and double beds, couches and chairs
Shawls for the elderly and ill
Toilet tissue
Paper towels
Men's shaving cream
Razors, men and women
Men's deodorant
Chapstick
Hot chocolate
Throw rugs
Quilts
Bicycles
Titusville Love INC
PO Box 132
220 W. Central Avenue
Titusville, PA 16354
Phone: (814) 827-4882
Your donations are a real blessing! Thank you!